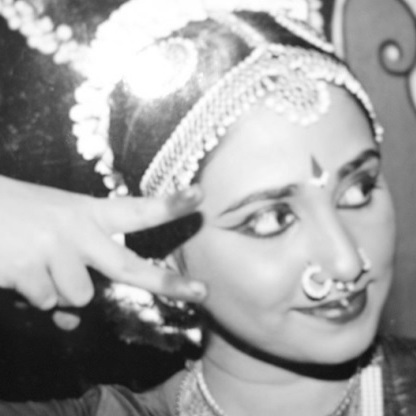 Raji Krishna
Mrs. Rajalakshmi Krishna (alias Ms. Raji) has been a Bharatanatyam performing artist / practitioner, teacher, choreographer since 1986. She has made commendable contributions and service in the field of Bhrathanatyam for the past 35+ years in performing, teaching in her own school and other institutions across India and USA.
---
Guru Rajalakshmi Krishna is the Founder & Principal of Shreebala Nrithyalaya Bharatanatyam School at Frisco, TX in Dallas Metroplex area. She started teaching in USA since 2015.
As the Principal & Teacher of ShreeBala Nrithyalaya, she has set the focus to train children and young adults passionate in Bharatanatyam, with emphasis on key aspects for exemplary Margam presentation. The school earned a good repute for the high quality and innovative choreography aligned to the Vazhuvoor tradition. Her Choreographies are greatly appreciated by art lovers.
Guru Rajalakshmi Krishna's students have performed in several leading platforms across USA and India, including Chennai Margazhi festival (various reputed Sabhas ) under the banner of Karthik fine arts, Mylapore Fine Arts club, BrahmaGhana Sabha , Subham Fine Arts , Anusham Fine Arts, RR Sabha at Chennai. Students have also performed in popular temples: the Chidambaram temple, Kapaleeshwarar temple, Sai Baba temple are worthy mention.
Rajalakshmi Krishna is among the lead disciples of her Grand-uncle and renowned Bharathanatyam Guru: Natayacharya Kalaimamani K R Radhakrishnan of Vazhuvoor tradition. Guru K R Radhakrishnan is the senior most Disciple of Padmashree Natyacharya Vazhuvoor Ramaiah Pillai. Guru Radhakrishnan is a legendary Nattuvannar. His Dance Drama productions of Manonmaniyam and Slipathikaram were Master-pieces of his music/ lyrics/ dance compositions. He was the main Nattuvanar for Guru/ Lengendary dance Kumari Kamala, Radha Vasantha among others.
Rajalakshmi Krishna began her Bharathanatyam journey at the age of 6 as a student of Guru Kalaimamani Thanjai Jayalakshmi Arunachalam Pillai. She finished her Arengetram (debut ) performance with Guru Jayalakshmi Arunachalam in 1986. and performed in various Sabhas, TV shows including Valarum Kalaingnar, Nadana Arangam and famous Temples across India and USA. She continued her post-Arengetram journey with her Grand-uncle.
Rajalakshmi Krishna also graduated in Bharatanatyam with Masters degree. She has done Nattya / Nattuvanga Visharadha at "The Madras Music College" where she passed out with distinction and awarded Gold Medal. She also passed with first class in Higher grade in Bharatanatyam. She started her teaching career at Chennai in 1994. She has made many Dance productions with music composition of her Guru Kalaimamani KR Radhakrishnan.
She passionately continues her Bharathanatyam career as a Teacher, Composer, Choreographer and judge & panelist to guide many budding students, who train to be future stars of this GREAT ART : BHARATHANATYAM