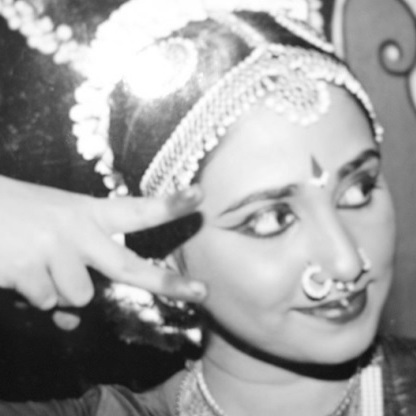 Raji Krishna
Mrs. Rajalakshmi Krishna (alias Ms. Raji) has been a Bharatanatyam dance: performing artist / practitioner, teacher, choreographer and ardent evangelist. She has commendable contributions and service for past 25 years in performing, teaching and advisory to cultural / art groups of leading schools in India and United States.
---
Ms. Raji started her formal training from her Grand uncle and Guru Natyacharya Kalaimamani Shree K.R,Radhakrishnan at her very young age. She continued her lessons from with Smt. Jayalakshmi Arunachalam of Shanmughanandha Bharatanatya Palli Chennai.
After finishing her full time Bharatanatyam course in Chennai, Tamil Nadu she started her advanced training from her Grand uncle and Guru Natyacharya Kalaimamani K.R. Radhakrishnan, Who is talented musician, nattuvanur and a teacher.(Senior most disciple of Guru Shree Padmshree Vazhuvoor Rammayya Pillai). Raji's Dance training has been predominantly on the oldest and traditional 'THANJAVUR & VAZHUVOOR' pedigree. She has been groomed by few other leading Bharatanatyam practitioners like Smt. Indira Rajan and Smt. Chandra Dandayuthapani. She has also learnt kuchupudi art form in Kuchupudi arts academy of Dr. Vempatti Chinna Satyam, Chennai.
She graduated with 'NATYA VISHARADHA ' in Bharatanatyam Dance with Music and Nattuvangam . She excelled with a distinction (GOLD Medal) and awarded the title 'Adal Kalaimani ' from Tamil Nadu Music College, India. She cleared Higher grade bharatanatyam Technical Exam with A First class. Currently pursuing her Masters in Bharatanatyam.
Raji's Bharatanatyam stage performance journey started with her arangetram in the year 1984. She has over 100 + Major stage performances to her credit that includes public media (TV). 'Margam navarathiri and Margazhi Festival series', across leading sabhas, temples and inaugural functions in India and USA. She has won awards in various dance competitions in India. She has a vivid track record of several stage shows characterized into Solo performances, dance-dramas based on Indian mythology & social themes, Fusion and Folk Dances.
The following are some of her critically acclaimed choreography.
Sakunthalam
Swamiye charanam Ayyapa
Hare Krishna and Silappathikaram
She has served some of the popular schools in Chennai as dance teacher and Cultural and Arts advisor, since 1992.